Yup - you heard that right - Pizza & Beer!
Nope - it's not store bought...in order to enjoy those types of foods, I have realized I have to home make them...
The beer is storebought (I LOVE my michelob ultras - at 2.6 g carbs per beer!)
But I have found the absolute BEST pizza crust.
I won't type out the recipe (as it's not mine), but the link to the most fabulous low-carb recipe site is here -
Linda's Low-Carb Recipes
. The pizza crust I used is
Most Awesome Pizza Crust
.
As for the sauce, I home made that too. I used a fabulous recipe I found on
Recipezaar.com
entitled "
Pizzaria Pizza Sauce
".
The only difference I made, however, is I didn't use any sugar - the wine makes it sweet enough.
On this pizza I am showing here, I used:
pizza sauce
sausage (range-free pork)
mozzarella cheese, shredded from a block of cheese
sliced roma tomatoes
diced yellow peppers
and omg it was FABULOUS!!! the crust, if made by the directions exactly is SO crispy and easily held!
it's AWESOME!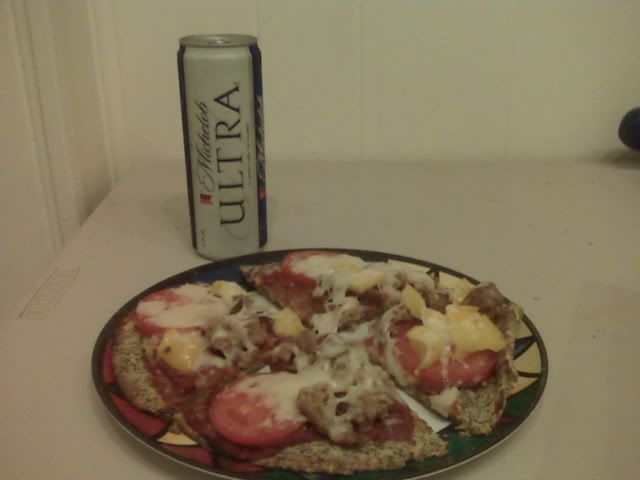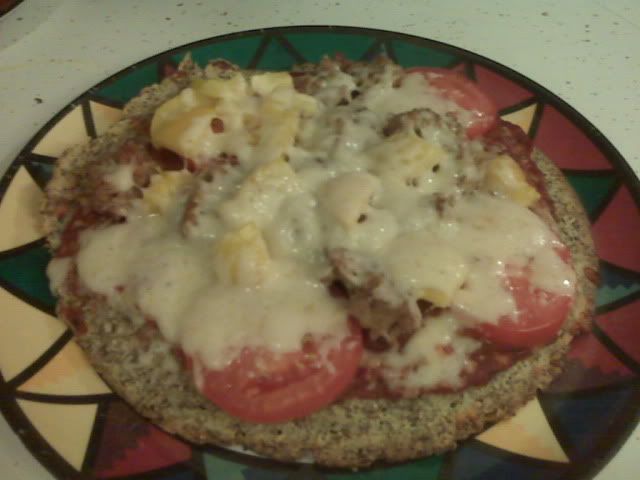 The carb count for this is as follows:
Crust = 6 g net carbs (8 g fiber) - remember, I doubled the recipe...
Sauce = 4 g carbs per 2 tbsp
cheese = 2 g carbs per 2 oz
1 sliced roma tomoato = 2 g carbs
diced yellow pepper = 2 g carbs
TOTAL = 16 g carbs (a little high, but I'm close to maintanance)
remember, depending on the toppings the carb count will vary.
But 19 total carbs for pizza AND beer??? I think I can handle that! :)
And, while it may look a little small compared to most serving sizes people are used to, remember, all the fiber in the flax seed will fill you up! I didn't need or want anymore after this meal - it fit the bill perfectly and I was absolutely 100% satisfied.